เชื้อก่อโรค: Bacillus Anthracis
การแพร่กระจาย: Infected animal products eg, hides, hair, meat.
Incubation period : 1 to 3 days.
Infectious period : During the infection.
ยาที่ใช้รักษา:Antibiotics penicillin.
อาการของโรค: - Usually presents on the skin, from contact, as a non painful pustule with surrounding oedema, which breaks down to a thick, black nodule.
- Such nodules may also appear in the gut or throat.
- Occasionally may produce a serious, generalised illness by spreading into the blood as a septicaemia.
Notes :Quarantine essential for the animal stock infected, not for the human sufferer.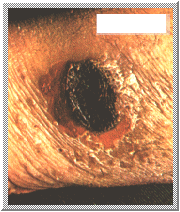 (An individual lesion of Anthrax found on the forearm of a sufferer)